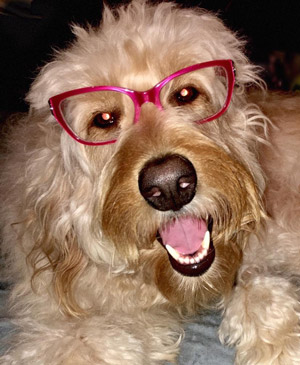 At Eye Care Center, we strive to exceed your expectations. It is top priority that our patients receive the utmost level of care, feel comfortable and 'at ease' during the exam process, and overall leave more educated about their eyes than before their appointment.
Sometimes 'fear of the unknown' can hinder this process, especially for children, special needs patients, and those going to the doctor for the first time. We strive to minimize any anticipation, anxiousness, and aversion toward going to the doctor and instead want it to be fun and interactive. With this in mind, we "think outside the box" and offer an alternative to the traditional eye exam. Laci is our Golden-Doodle dog who we use as a full-time, on-site therapy or comfort dog. She is very popular with our patients, and is great at calming nerves and easing anxiety. Studies show that even a short-term exposure to a comfort dog has beneficial physiological and psychosocial effects on the patients who want it.
And remember, Laci is not just for the young patients. We could all use some "Laci Loving" from time to time. Don't forget to request to see her at your next appointment.